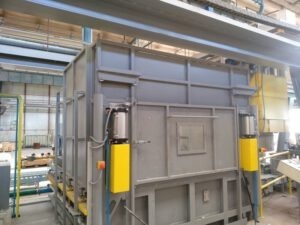 2020 FAM Oborniki – start-up of a high-temperature zinc plating line with centrifugation.
A line for high-temperature zinc plating with centrifugation was put into operation. In addition, internal transport was modernized by installing a winch system (12 units). Two overhead cranes were replaced, one each at forming and demoulding.
---
Hot dip galvanizing
It is the most durable, safe and economical anti-corrosion protection for steel, while being environmentally friendly. A properly applied coating can protect steel for up to 100 years! Hot-dip galvanized construction is not only of high technical but also aesthetic value. More
---
Powder coating
Definitely the most effective of the modern metal coating methods used today. In contrast to traditional (liquid) paints, powder coatings guarantee a smooth coating without cracks, streaks or bubbles. For more efficient use of our technology we can offer the DUPLEX system. More
---
Centrifuge
High-temperature zinc plating with centrifugation is currently the best and most effective method for corrosion protection. Resistant to mechanical damage, protect the material exposed to high loads. Melting to a temperature of 600 degrees causes the zinc to spread perfectly on the details. More
---
Road barriers
The main purpose of using road barrier systems is to protect the health and lives of road users and to ensure the safety of people and structures around the road. We offer safety barriers complying with the requirements of the EN 1317 standard and bearing the CE mark. More
---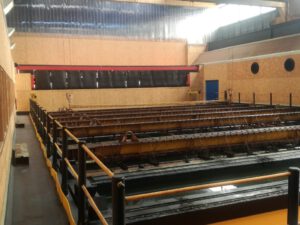 2020 Fam Opole – installation of new process tubs and platforms
In 2019/2020, the installation of new process tubs and platforms was carried out at the Fam Opole Plant. We built the etching plant including the installation of gas extraction. In addition, the traverse feed and collection system was put into operation, the furnace gas and air system was replaced and the filling and mixing system […]
---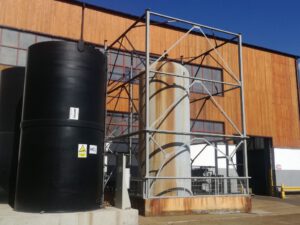 2019 Fam Opole – replacing the dryer with a new three-chambered one
The old two-chamber dryer was replaced with a three-chamber dryer with a much higher capacity. The substructure of the production hall was blasted and repainted and a new façade installed.
---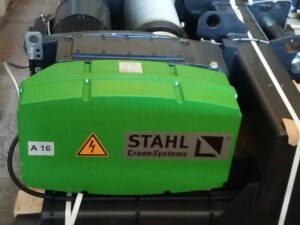 2019 Fam Wieluń – investments were carried out
In 2019, we carried out the following investments at the Fam Wieluń Plant: installation of a fabric filter and equipping the cranes with new winches.
---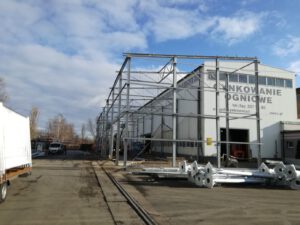 2018 FAM Wroclaw – new production hall
Addition of an additional aisle to the production hall (increasing the storage area and opening of additional demoulding stations).
---