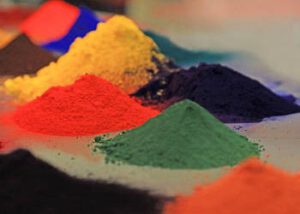 Rawa Mazowiecka
Furnace size: 8200x1500x2400mm
Max weight: 450kg
Surface preparation: shot blasting
We use colors from the RAL palette
What is powder coating used for?
Powder coating is the application of powder paint to the surface of the component to be painted (mechanically cleaned beforehand) by electrostatic or electrokinetic spraying. By "charging" the particles with an electrostatic charge and earthing the painted workpiece, the paint adheres to the surface of the product. The coated material is then placed in a furnace at a temperature of 160 to 200°C, where it melts and hardens, polymerizing the coating. The standard furnace curing time, depending on the type of paint used, the thickness and the type of workpiece, is about 20 minutes. As a rule, the thickness of the coating is between 60 and 120 microns.
Powder coating is an extremely useful solution that can be used wherever metal components are used. Powder coatings not only provide an aesthetically pleasing appearance, but also durability against various types of damage that may result from intensive use of the item.
This is why powder coating is often used for metal furniture that is commonly used in shops or warehouses. These include all kinds of shelves, racks and hangers. Manufacturers of traditional furniture also use powder coating for decorative purposes.
Powder coating is also widely used in the automotive industry, where it applies to rims, bumpers, hubcaps and other components, as well as in the production of lighting, agricultural machinery or domestic appliances.
Powder coating pays off!
Powder coating offers many advantages. Why it is worth to use it?
Guarantees high durability of coatings
Powder coating ensures high resistance to thermal and chemical influences. It is much more durable than traditional painting.
Provides a smooth surface
Does not cause unsightly cracks or flaking of coatings. Moreover, it makes the colors extremely saturated and does not dull.
One layer of paint is enough
With powder coating, the paint layer is so thick that there is no need for a special primer.
Economical
Due to its high durability, powder coating pays off more than traditional wet painting. The paint stays intact much longer.
Ecological
The paint particles that do not stay on the item being painted can be successfully reused.
Safe for people and the environment
Powder paints produce only small amounts of waste, and no harmful solvents are used during painting.
Advantages of powder coating
This is definitely the most effective of the modern metal coating methods used today. In contrast to traditional (liquid) paints, powder coatings guarantee a smooth coating without cracks, streaks, blisters or ripples. They are used for protective, anti-corrosive and decorative painting of metal objects. The coatings are characterized by good mechanical properties and high resistance to chemical agents.
An important advantage of powder coatings is their versatility of application, giving the possibility to obtain a coating with a different degree of gloss, type of coating and its structure in practically any shade of any color.
Powder coating provides excellent protection against corrosion. Powder coatings are characterized by high resistance against moisture, low and high temperatures, UV rays as well as chemical agents and any mechanical damage. Their durability is far superior to elements painted with traditional paint.
Powder coating stages
Surface preparation
For industrial-scale powder coated parts, we pre-treat them. This is to prepare it for the application of paint, making the whole process more effective and precise. Having all the work carried out by a single contractor means that the surface of the component does not have time to rust or oxidise between cleaning and painting, which is vital for the durability of the paint coating.
Application of paint
Powdered paint is applied to a suitably prepared surface. This is done by electrostatic or electrokinetic spraying. Different types of powder coatings can be used for painting. The component to be painted is grounded and the electrostatically charged powder sticks to the surface.
Paint curing
The component that has been coated with powder is placed in an oven where the temperature is 160-200 ⁰C. Melting takes place and is followed by curing. The curing time depends on the type of paint used and the properties of the surface and is usually about 20 minutes.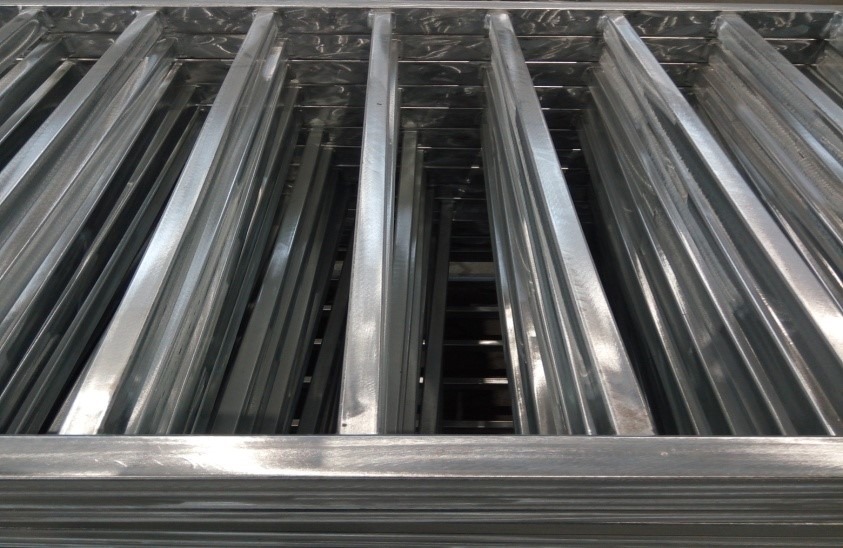 Duplex. What for ?
These are two complementary coatings – the zinc coating which protects against corrosion and the paint coating which is also a decorative coating and protects the zinc against the harmful effects of environmental factors.
This composition allows the structure to be protected against external influences for many years and thus reduces maintenance costs.
As a galvanizing and coating service provider, we are able to carry out this protection directly on site.
Our objective
Our aim is to strive to continually improve the quality of our services and maximize your satisfaction.
Price list and range of services
The price list and the scope of services are established individually to ensure clear cooperation conditions and 100% satisfaction of companies choosing our paint shop.

The most effective of the modern methods used today
Powder coatings guarantee smooth coatings without cracks, dips, blisters or ripples/li>
They are used for protective, anti-corrosive and decorative painting of metal objects/li>
The coatings are characterized by good mechanical properties and high resistance to chemical agents